The future isn't looking hopeful. Climate change, peak oil, mass migration, wars in the Arab world and beyond, destabilisation within Europe, financial instability, the rise of nationalism and the erosion of human rights. Yet J&J (Jessica Huber and James Leadbitter) refuse to be governed by the politics of fear.
Under the title "The art of a culture of hope", J&J are creating long-term discussions and actions about our values, our fears, our hopes and our collective future. "The art of a culture of hope" consists of three parts: the performance evenings "Tender Provocations of Hope and Fear", workshops "Space for Hope". What emerges from these two dialogues is bound together into an "Archive of Hope and Fear".
To begin this conversation in Berlin J&J (with Jeremy Wade) invite you to Tender Provocations of Hope and Fear, an evening of sharing, performances, lectures and project presentations about experiences of fear and/or hope. Ever evolving in each location, for NO LIMITS Festival we have invited a range of disabled people to share their experiences.
Kim Noble is worried about hope. Fear fills his body when he thinks about hope, since it is that kind of hope he cannot bear. Tourettes Hero wants to know what happens when the most persistent heckler stages centre stage for a stand-up comedy gig, where she is neurologically incapable of staying on script. Mondkalb asks: if you are in a wheelchair facing the Stairway to Heaven, is the only option the Highway to Hell? Neve B is a Black Funkadelic diva of impartial past and perfect future, languidly dipping into the asymmetry of their body through synchronized swimming on land frictively reminiscent of Ziegfield's Follies and the vacuum cleaner presents a rare chance to see a live version of his Ship of Fools documentation, when he turned his social housing apartment into a mental health hospital.
Guests in Berlin:
Touretteshero: Stand Up, Sit Down, Roll Over
the vacuum cleaner: Ship of Fools
Kim Noble: Untitled
Neve Be: Incidentally
Mondkalb: Hope and Fear on Trial
Concept & artistic direction :
J&J (Jessica Huber & James Leadbitter)
Set design & artistic collaboration:
Gabriela Rutz with Ramin Mosayebi
Production/Administration: Mary Osborn for Artsadmin, Yvonne Duenki for Artem
Featuring music by Station 17
Funded by: Fachstelle Kultur Kanton Zürich, Stadt Zürich Kultur, Schweizer Kulturstiftung Pro Helvetia, Migros Kulturprozent / Prärie
Bio – Jessica Huber
Jessica Huber, born in 1978, is a Zurich-based performance and installation artist. She studied choreography and dance at the Laban Centre London and City University of London before shifting the focus of her artistic work to performance art. In 2005 she co-founded the mercimax collective which won the 2012 City of Zurich Cultural Award for Theatre for its "Die Gegenüberstellung" series (2011).
Bio – the vacuum cleaner (James Leadbitter)
From one man shows to large scale participatory actions, the vacuum cleaner's approach is both subtle and extreme, but always candid, provocative and playful. His work has been exhibited throughout the UK, including commissions from Tate Modern, Wellcome Collection and Nottingham Contemporary as well as for BBC4 and Channel 4. He regularly present work internationally both on the streets and in art spaces. He is an Artsadmin Artist.
Bio – Jeremy Wade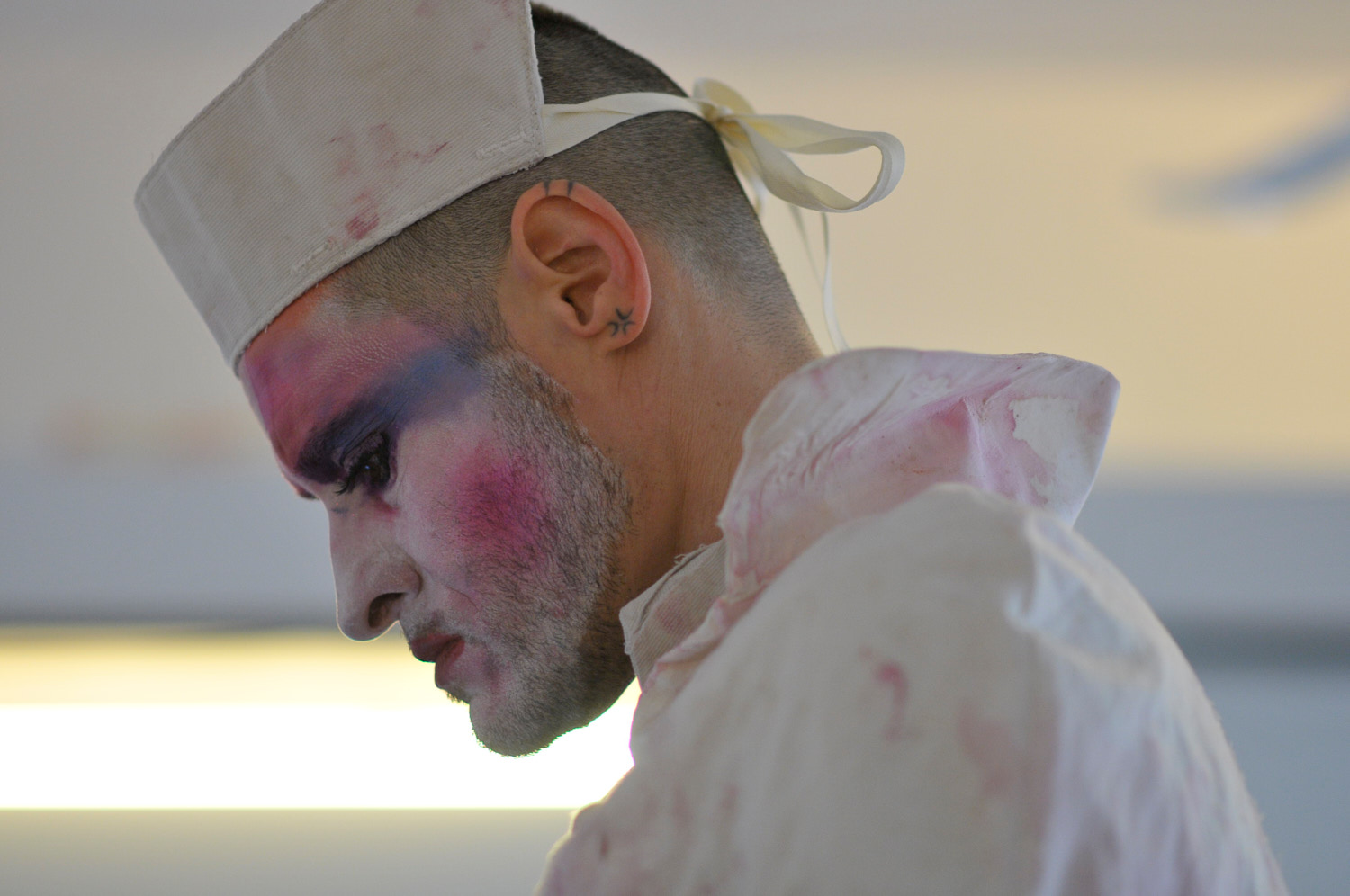 Jeremy Wade is a performer, performance maker, teacher and curator who graduated from the School for New Dance Development in Amsterdam. He received a Bessie Award for his first evening length work titled "Glory" at Dance Theater Workshop, New York City in 2006, since then he lives in Berlin and works in close collaboration with the HAU Hebbel am Ufer theater. In combination with a rigorous teaching practice, Wade is busy with the curation, production and subsequent hosting of ecstatic events and will premiere a new group piece in February under the frame of The Battlefield Nurse Project.
Bio – Gabriela Rutz
Gabrielas work focusses on creating awareness for the perception of space. With her installations and scenographic work she provides spaces that can be experienced, appropriated and even changed by participants. She is convinced that over-determined and controlled spaces obstruct possibilities of identification, participation and interaction. In response to this she creates fragmented spaces with blurred boundaries and indeterminate, undefined use.
For the project "The Art of a Culture of Hope" she creates accessible, welcoming, cozy and inclusive spaces for everyone. Her work is guided by questions like "how can space encourage conversation and support interaction?" In her perspective rethinking space is crucial for the development of new ideas and approaches of action.
About Station 17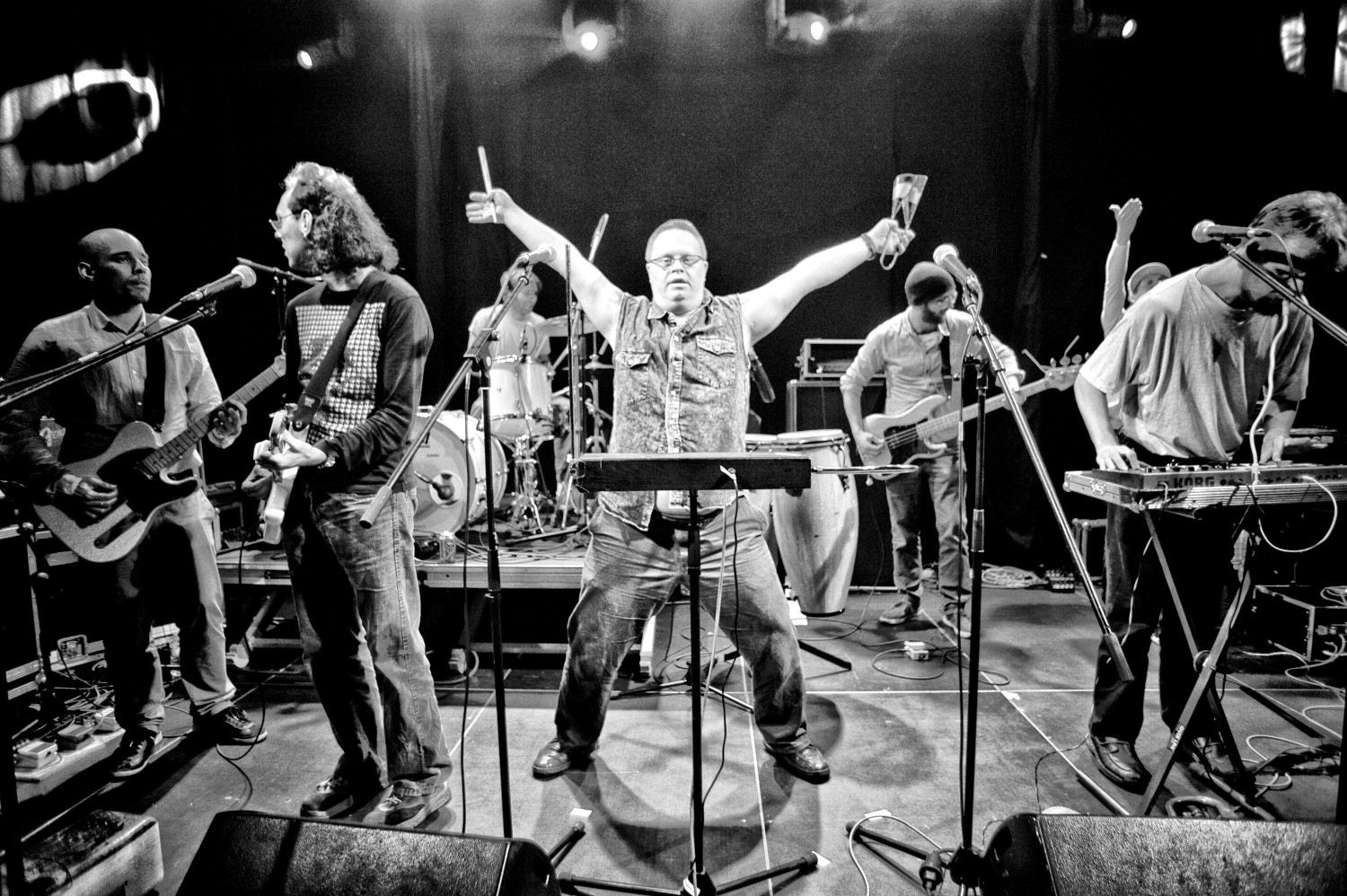 The only thing permanent about this band is change. Developing oneself, stretching music, testing borders – this is what they have been about since the foundation in 1989 in an assisted living group in Hamburg. Eight official albums have since been released, and Station 17 emancipated itself further and further from the initial idea of the social project, growing into a major formation in the field of experimental indie rock. Probably no other band manages to appear at the Hurricane Festival, a reception by the Bundespräsident and an event of Jesus freaks, all within one weekend. Station 17 did it.